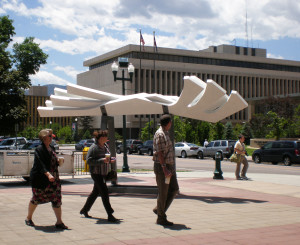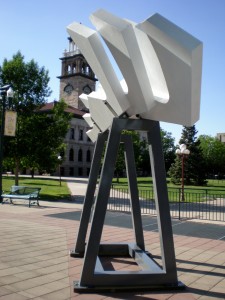 "Journey to Paradise"
Laminated OSB; Polyurethane finish; tubular steel
10'0"H x 20'0"W x 4'10"D
2011 – 2012
Sited at Plaza of the Rockies, Colorado Springs, CO. The sculpture is part of the Art on the Streets 2011-2012 year long exhibit.
"Journey to Paradise" explores the boundaries between architecture and sculpture while incorporating concepts of journeys and transitions. This elevated artwork forms an arch that is architectural in nature, thus blurring the traditional boundaries between the two disciplines. Light is a central design element as the surface color changes from a silver gray to a pure white depending on the lighting conditions. The overlapping layered forms capture and reflect natural light to produce a dynamic visual experience that generates a sense of forward motion. White was selected in order to create both a sense of buoyancy as well as the impression of a blank canvas.
"Journey to Paradise" was awarded first place, a $15000 award, by the 2011 jurors for Art on the Streets. This artwork was also shown in the Aurora, Colorado Art 2 C on Havana exhibit from 2013-2014. It was sited in a spacious grassy area at the intersection of Alameda and Havana.