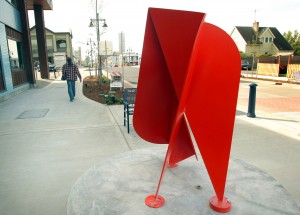 "Sun Scoop"
folded steel; powder-coated finish
6'7″H x 3'8″W x 3'10″D
2014
Sited in Bremerton, WA
"Sun Scoop" was selected by The Public Arts Commission for the City of Bremerton, WA. This bright orange folded steel work is sited at the apex of Pacific Ave and 9th Street located near the water front and ferry dock as part of the Pacific Ave Renovation Project. The concept for this sculpture is the idea of "scooping up sunshine". The open V-shapes capture patterns of light and shadow as the sun moves across the surfaces of the powder-coated folded steel forms.